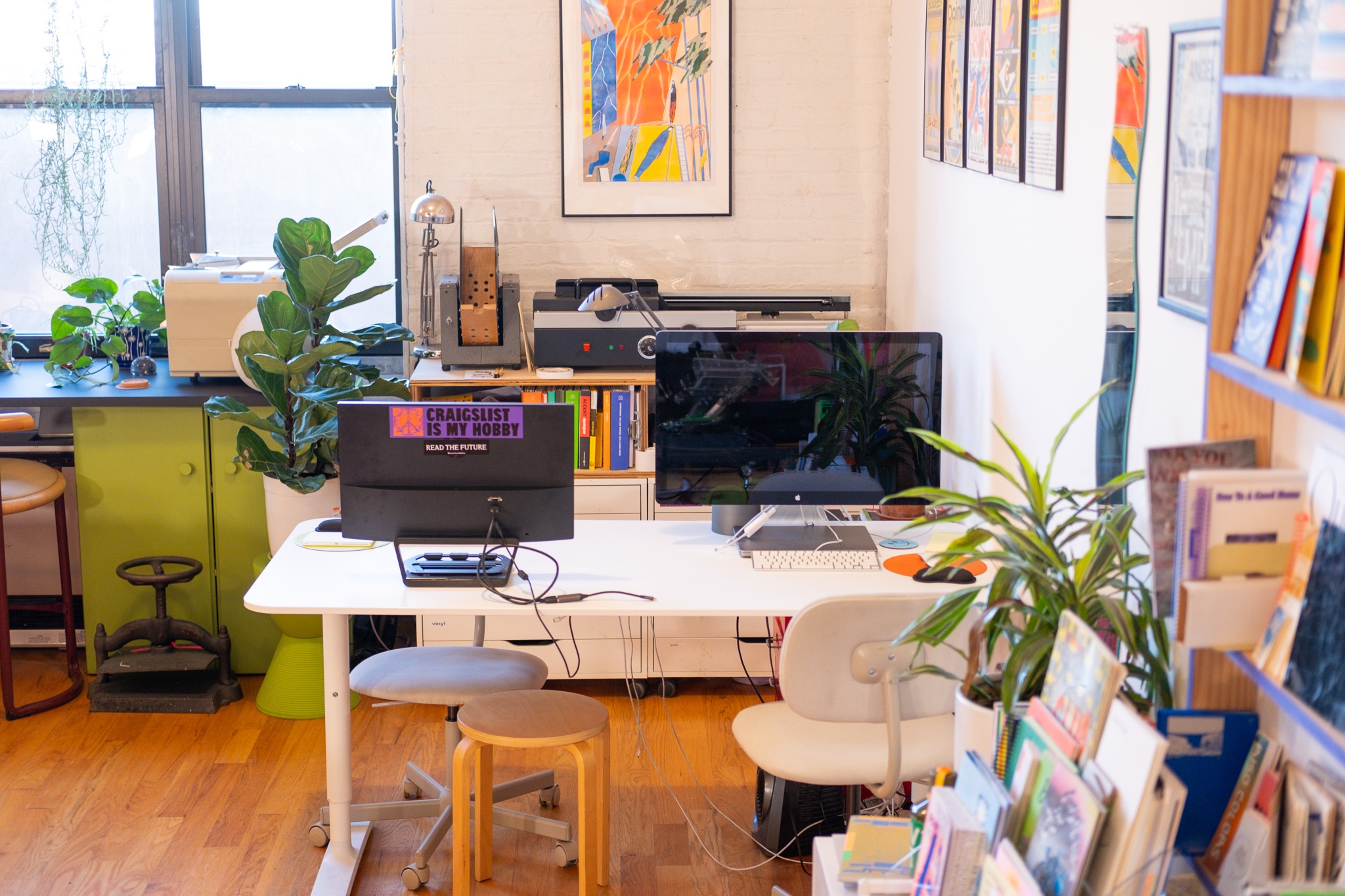 Secret Riso Club is a graphic design and risograph studio that focuses its work on the intersection of social justice, art, design and community building. In our practice, we work to build a platform that serves as a collaborative space for developing ideas and new projects. SRC is run in collaboration between Gonzalo Guerrero and Tara Ridgedell.

Gonzalo Guerrero (he/him) created SRC in 2017 a few years after immigrating to NYC from Chile. As designer, Gonzalo's practice is focused on the use of printing as a tool to experiment and explore ideas around identity, activism and culture. Tara Ridgedell (she/her) has a background in education and comes to the practice with accessibility in mind. Her work focuses on both inward and outward connection and breaking down capitalism's individual centered focus. In addition to running SRC operations, Tara also runs Practice Print, our in house screen-printing studio.

Things we do at Secret Riso Club:
︎︎︎ Designing and printing our work
︎︎︎ Designing & printing for other folks
︎︎︎ Risograph printing and creative workshops
︎︎︎ Talks, collaborative workshops, creative support
︎︎︎ Publish Art Books
︎︎︎ Free/discounted protest & liberation movement resource printing
︎︎︎ Studio time is available
︎︎︎ Collaborations with artists
︎︎︎ Studio visits - come chat with us about your ideas!
︎︎︎ Events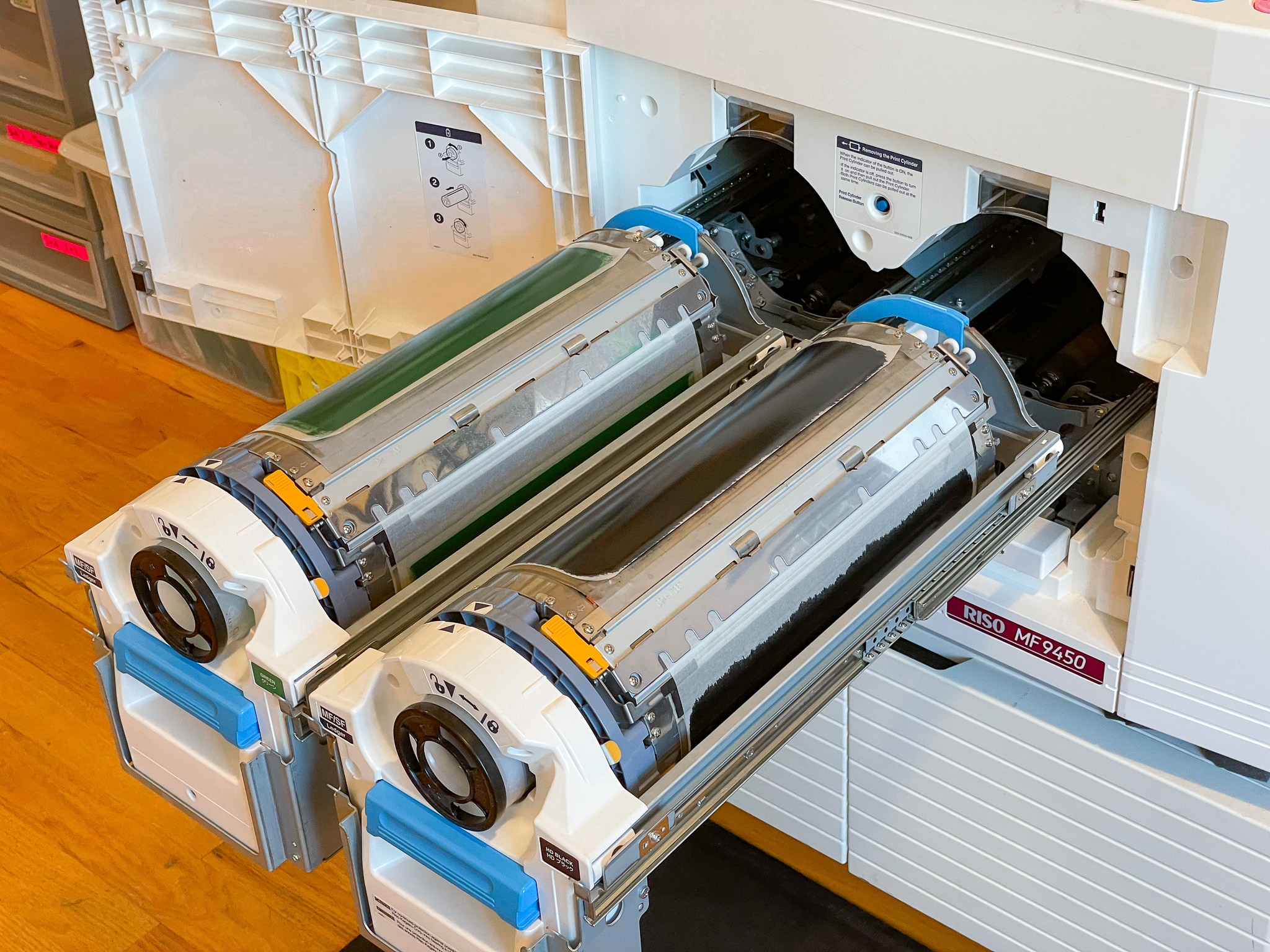 ---
︎ Value Statement ︎ ︎ Value Statement ︎︎ Value Statement ︎
We are an anti-capitalist studio.
For us, this means prioritizing people over profit; community over all else. We price our art, services and workshops with the intention of balancing accessibility and personal financial stability. Under this current system, financial capital allows us to continue our work.
If there is a service, workshop or piece of art that you are unable to pay for, please send us an email and we'll work something out! Money is not the gatekeeper. We also offer
free and reduced cost printing services for community activists and organizers
as well as a work exchange program. If we're not able to provide you with what you need, we know many great people we can refer you to!
We also consider our own mental health and well-being a priority over productivity. We keep regular work hours, but please be mindful that we may not be able to answer an email, fulfill an order or ship an item as quickly as a larger commercial business. We love the work we do, so a sustainable balance is necessary!
---
A large part of our practice is holding and facilitating events for participants to engage in creative practice, meet new people and learn the basics of risograph and screen-printing. We have worked with organizations, companies, record labels, and individual artists to create a workshop, either held at our studio in Bushwick or on-site, that allows participants to work together and create a poster, zine, or apparel. In addition to facilitating workshops, we also host pop-ups at our space in Bushwick. We strongly believe that all people are creative beings and love the opportunity to hold space for that.

---
---
Fairs:
Press Pay Fair: 2017, 2018
Independent Art Book Fair: 2017

Snail Farm & Friends: 2017

MayDay Fair: 2017, 2018, 2019

Brooklyn Art Book Fair: 2018, 2019, 2020, 2021, 2022, 2023

Cultural Traffic: 2018

Printed Matter Art Book Fair: 2018, 2019, 2021, 2022

New Latin Wave Festival: 2017, 2018, 2019, 2021

Booklyn Art Book Fair: 2019

Chicago Art Book Fair: 2019

Northampton Print and Book Fair: 2019

Odds and Ends Art Book Fair: 2019

Midwinter Market: 2019

LA Art Book Fair: 2020 (canceled)

Vancouver Art Book Fair: 2020

Betty Art Book Fair: 2020

Paper Jam Alternative Book Fair: 2021

abC art book fair China: 2021

Sounds About Riso: 2019, 2021, 2022

Printed Matter / St Marks x 8-Ball Community's East Village Zine Fair: 2021, 2022, 2023

Index Art Book Fair (Mexico City): 2022, 2023

Libros Mutantes (Madrid): 2022

Miss Read (Berlin): 2022

Women's Studio Workshop Upstate Art Book Fair: 2022
Bergen Art Book Fair: 2023
Brooklyn Art Book Fair: 2023
East Village Zine Fest 2023
The Other Art Fair 2023
Exhibitions:

Graphic Days
Visual Design Festival
Turin, Italy
2023

Can Can Projects
Gallery Exhibition
Mexico City, MX
2022

Ideal: RISO Group Show
Zygote Gallery
Cleveland, OH
2022

Sounds About Riso
Group Exhibition
New York
2019 - 2022

Gráfica América
Museum of Latin American Art (MOLAA)
Long Beach, CA
2019

Throw Out Your Masters
VOID Gallery
Saskatoon, Canada
2019

Primary Interactions
Pionner Works
New York
2016
Secret Riso Club has been featured in:
Book Art Review / The Economics of Publishing - Center For Books Art, 2023
Book Art Review / The Economics of Publishing - Center For Books Art, 2023