IS ART UNDER CAPITALISM FUTILE?
(No, But Here's Why It Feels That Way)
By Fareeha Khan





Fareeha Khan is a comedian and artist based in New York City. Her stand up has been featured on an episode of Comedy Central's "Tight Five" presented by Ilana Glazer and she's toured with Man Repeller. Her writing and acting credits include MTV, Reductress, Jimmy Kimmel Live!, Comedy Central, and Adult Swim, as well as several indie short films. Her short film she created, wrote, and starred in, Break Up, Baby, was a NoBudge 2021 pick and Vulture said she has "an enchanting onscreen presence" in it, which was pretty cool. She self-publishes zines, essays, and comics exploring the search for meaning in the trappings of capitalism, which you can find on her website: http://fareeha-khan.com




The starving artist" is less of a cute stereotype and more of an economic reality created by systemic inequality, unnecessary yet true.

Making art in a modern capitalist system is painful as all hell.
Every second of it is fighting off the notion of futility. I find making otherworldly drawings and telling fun jokes to be a fulfilling way to spend my time and escape the meaninglessness imbued onto existence within the system, but the economy barely rewards such an endeavor with money (unless you get famous, which, like, seems to ruin your life). Yet we need money to survive. Ah, so here we are, dear readers: the center of our predicament. The paradox of wanting to pursue art while existing within capitalism. Making art is hard. There is the entrapment of heavy procrastination initiated by self-doubt. (Refer to the book The War of Art for more, but you know, it's in the title.)
There is my dad telling me in 1997 that if I wanted to be an artist when I grow up, I'd end up homeless. There is the reality that he was correct and now he helps me with money to live in the city to pursue art. There is the relentless ever-present hold of late-stage-American-capitalism, in which we are so reliant on the free market that the only way to stay alive is to either spend the majority of your life in labor or to get born into generational wealth, the latter of which is out of our control. The other option is homelessness, like my dad said. There are no other options. Most of my artist friends are broke and struggling. "The starving artist" is less of a cute stereotype and more of an economic reality created by systemic inequality, unnecessary yet true. At least in Canada you get guaranteed healthcare and a livable minimum wage, but I'm writing from the crumbling American empire so just know that going into this.
---
How does your work and experience as a comedian relate to and include the themes in your zine?

As a comedian, it can feel very free-spirited because there are no rules besides whatever it is that you want to do when you get on stage and I feel the same way about zine making. I've found that as a comedian, what I usually write jokes about is what I'm obsessing about in my own mind at that very moment, and I applied that same process to this zine. Which is pretty much: the foils of capitalism and wondering why we are trapped here :)



Can you speak more about how using your voice in comedy relates to writing and illustrating? Do you see them as different skill sets?

I think they all come from the same place, which is that mysterious movement of creativity that strikes all of us at various times out of our control, so you just gotta strike when it hits. I see them all coming from the same desire within me to express myself and create something – the impulsive human desire to make something of myself – but just finding different outlets of expression. I do have my mars in Gemini so maybe that's why I have like a bunch of ways I want to talk and can't decide on just one.
Could you describe your experience with printing? Why did you decide to print this physically? How was the experience? Do you want to print more things in the future?

This is my first time ever printing my work. I've always wanted to print on risograph because it looks so beautiful! I think with this project, I really wanted to create a physical tangible record of my work and a capsule of a certain time because often comedy can feel ephemeral. We do it on stage and then once the show is over, that was it until the next show. Sure there's video and personal experience, but all of it is intangible. I was craving holding something in my hands and saying I made this.

I definitely want to print more of my artwork and new zines in the future! This has been a really satisfying experience overall in a way that feels hard to find in an all digital world. I hope more people find that satisfaction in this crazy life!


Photos by Fareeha Khan - ︎ website: http://fareeha-khan.com





"Give Us Our Flowers: A Global Archive
of Queer POC Rebels."


In an effort to expand the narrative around Pride and push back on well-trod stereotypes, a range of
LGBTQ2IA+ voices at BUCK partnered to create "Give Us Our Flowers: A Global Archive of Queer POC Rebels."




With a focus on highlighting revolutionary, but often-forgotten, Queer POC, "Give Us Our Flowers" explores their struggles while celebrating the strength they summoned to fight for their rights.
Envisioned and designed by LGBTQ2IA+ voices at BUCK, each of our 26 spotlights features a custom illustration and biography. 100% of proceeds are given to
The Stonewal Protests
,
The Triangle Project
, and
The Black Trans Art & Joy Fund
.
We were excited to partner with BUCK to print this project! Each page was 4 colors and the range of tones and texture riso brought to the project made it feel extra special.
Flower Focus
"Give us our flowers while we are living" is an expression centering the importance to fully love and support Black Trans folk always, not just during times of tragedy, not just in death. Often heard at the Black Trans led Stonewall Protests that continue to this day, it's a reminder that the push for LGBTQ2IA+ liberation must continue. In this zine, we honour both our predecessors and our contemporaries.
Blurred at its borders, our flower represents the haze around our histories and the need to sharpen the focus on the real stories at the center of it all.
Stonewall Protests IG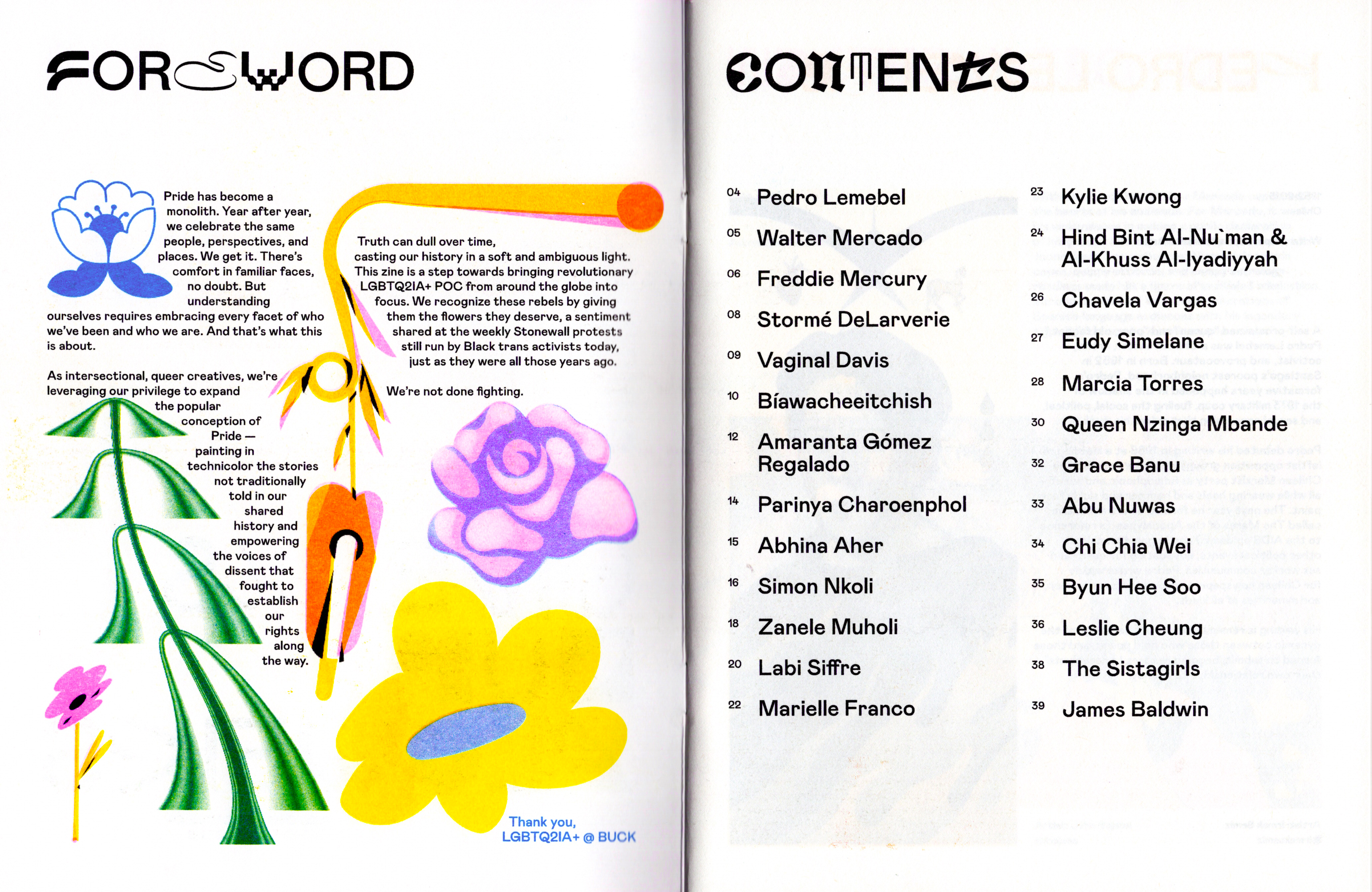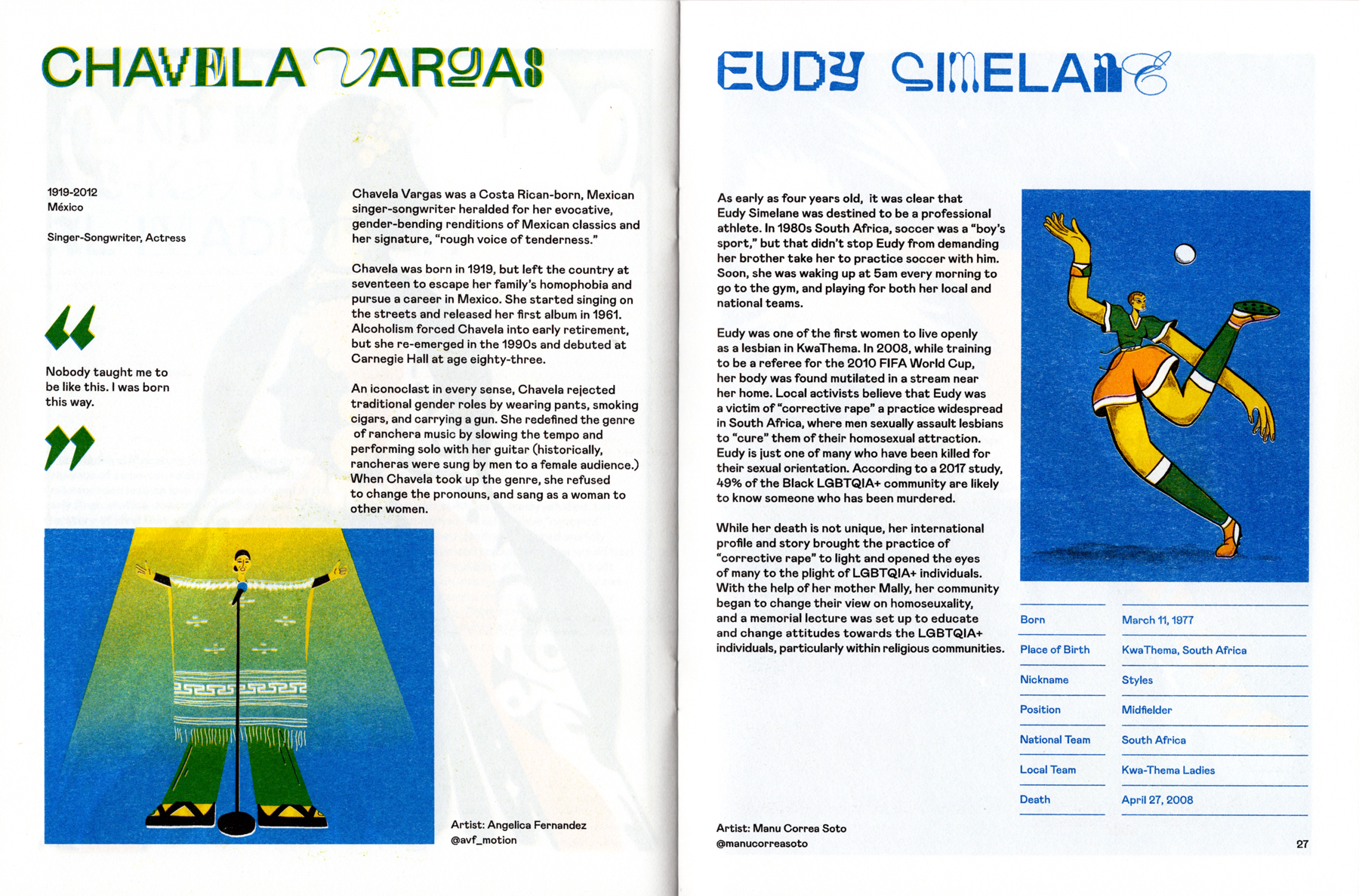 Check out the appendix here ︎ with more resources





Icon: Pine Leaf Woman Chief

"She was a Chief of the Crows and a warrior who brought an extended period of peace between her people and neighboring tribes. She identified as Two-Spirit, but chose to wear feminine clothing — this detail made me think she really knew who she was and didn't give a eff what other people thought. More evidence for this is in the fact that she took four wives.



I'm inspired by the storytelling found in a lot of Native American paintings, as well as the decorative patterns used in day-to-day objects like woven baskets and clothing. I tried to marry those two ideas in this illustration while playing with my own favorite tools.

In the end I just wanted to depict Pine Leaf Woman Chief as a BAMF, larger than life, confidently leading her multiple wives on horseback through a pine forest. I wondered if making the pine trees yellow in my illustration did some injustice to her jab at her wannabe male suitor, but the color was too pretty to resist."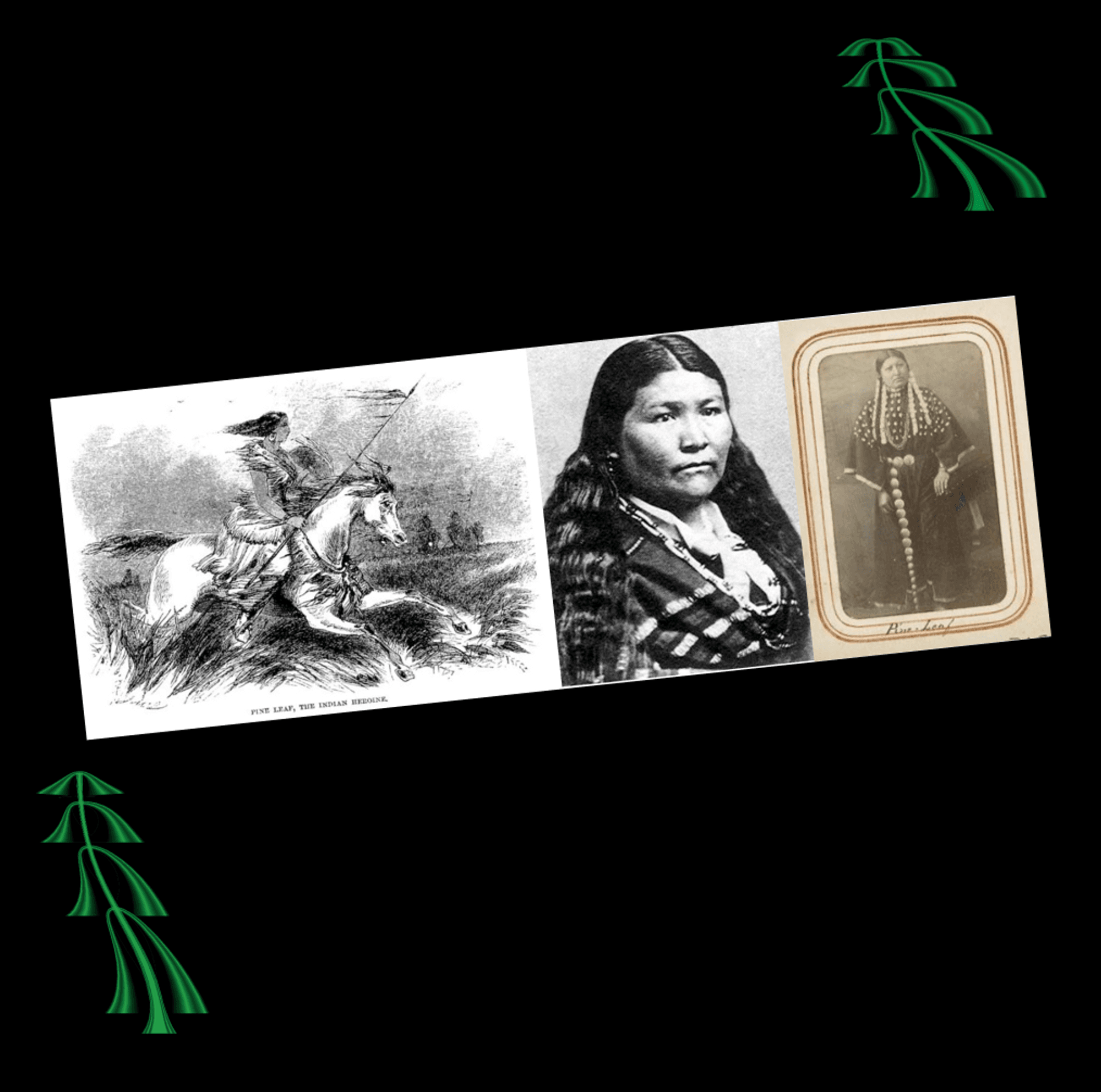 Icon: Simon Nkoli

"Leslie was particularly iconic for his versatility both on stage and in cinema, and was considered ahead of his time, especially in Asia, which was (and is) very conservative. He once said, "The highest achievement for a performer is to embody both genders at the same time.
For art itself is genderless," so I wanted to portray him as an ethereal embodiment of his many iconic performances and looks, instead of sidelining him into just one. All those facets are refractions of his identity, one that goes beyond a singular understanding of gender."


Source:︎ Buck.co



︎SECRET SUMMER SUNDAYS︎SECRET SUMMER SUNDAYS
Is a series of in-person outdoor events in Bushwick. We invite artist and press friends to share & sell what are they are working on.
There'll also be dj friends spinning sets & performances. Come hang with us on a summer Sunday.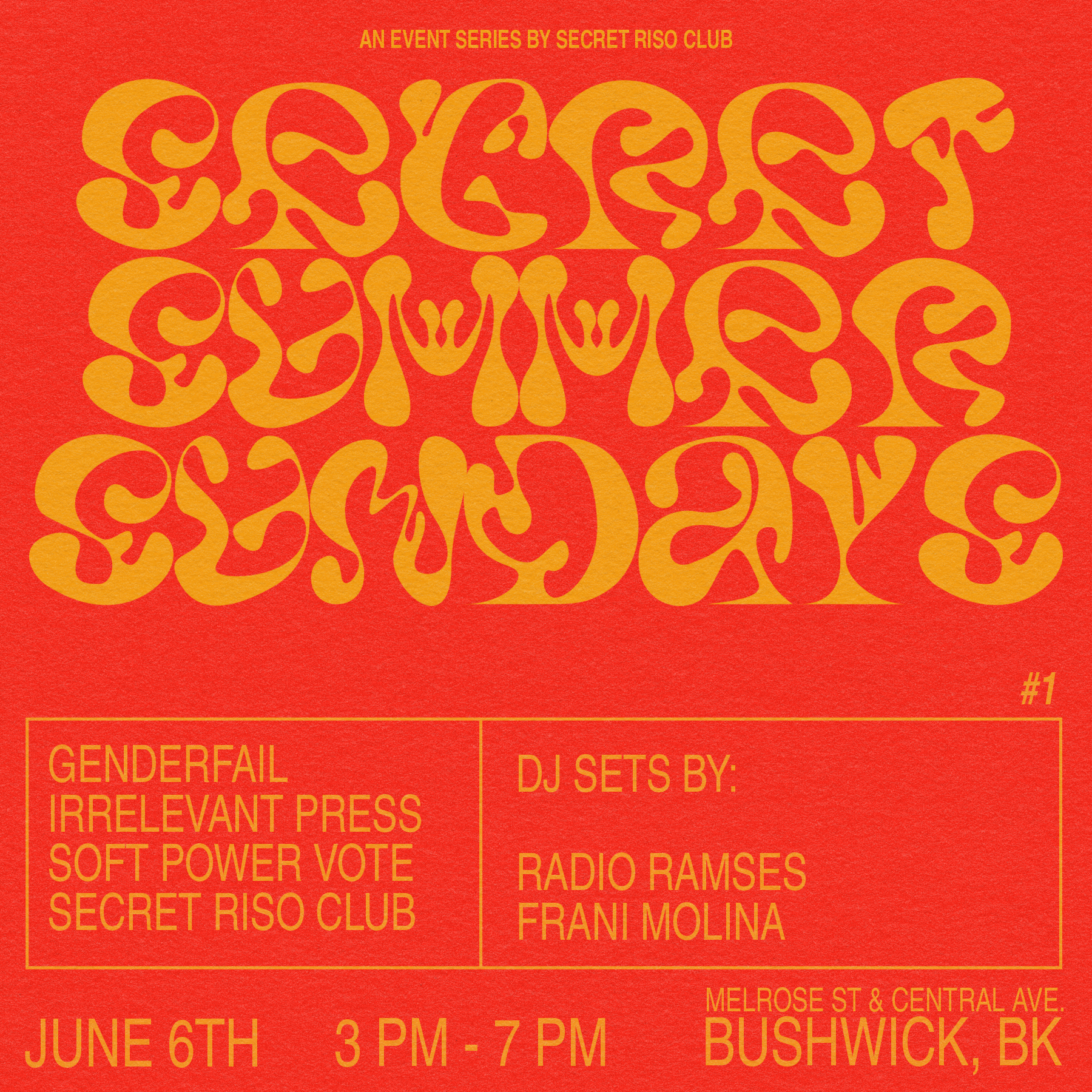 MERCURIO ︎︎︎ FREE TYPOGRAPHY BY W TYPE FOUNDRY
W Type Foundry is a typography studio based in Chile & London.
CHILEANS: THE MERCURIO LIES, read the banner Pedro Cardyn hung up at Chile's Pontificia Universidad Católica (PUC) central campus on August 11th, 1967. The phrase, calling out a mainstream newspaper El Mercurio, was meant to expose the conservative right-wing's attempt to impose neoliberalism on the country. 52 years later, we can say that the phrase remains clear and relevant, and it can beapplied to the media. Lies and an imposed false normality have been a quiet, daily habit. The good news is that their absurd lies have become evident, and we no longer believe them. This project was born in 2018 as a joint exploration with artist Alfredo Da Venezia.



While using 3D printing to replicate the front of the PUC building, we rescued the letters in the original banner, digitized them and programmed them as a font, using mapping to replicate the original gesture.

When we began this project, we tried to channel our feelings of unease through the comfort of what we knew how to do. We never imagined that a revolution on the scale of what we're living in Chile would take place. People's response to the state's constant abuses through the instruments of its power has been harsh and beautiful. The list of those wounded, tortured and killed is not tolerable.
Neither is our selfishness. Each of us must fight andcontribute to the new Chile that is being built. That is why we are making this font freely available, to use as another tool in this scenario. We know it's a small contribution within our context, but we have to rethink our political actions against the current capitalist system. Because capitalism is in the details, deep within each of us, and that can only change when our actions become collective and guided from aplace of love. We hope for a solution to this, and by solution we mean an end to neoliberalism and the construction of a healthy society.


WE ARE GIVING AWAY 10 COPIES OF THIS A1 22"X33" POSTER!
JUST ADD TO CART ︎
︎ ANDEAN FUTURIST MANIFESTO ︎
This digital-universal version of Andean Futuristic Manifesto by Alan Poma, was edited by Soma Publicaciones in April, 2020.

︎︎︎ Andean Futurist Manifesto / Alan Poma connects the ideas of Russian Futurism (1913) with Andean cosmology. Developing methodologies that make art a tool for the invention of possible futures.

︎︎︎ According to the chronicles of Fernando de
Montesinos, the Inca Toca Corca Apu Capac established an astronomical teaching center in Cusco developing a system that helped to generate precise calendars for the Empire.
However, the Incas themselves prohibited the use of written text, attributing them with negative magical powers.
︎︎︎ That is why Tupac Cauri Pachacuti, 60 years before the arrival of the Spaniards, limits the communication of information to geometric images and quipus.
︎︎︎These geometries, called tocapus, carry with them a code of geometric language that no Western science can read.


︎︎︎For Andean Futurism, the way to give life to that geometry is not trying to decipher its meaning in the past (that is what history and archeology is responsible for) nor in the present (that popular culture is responsible for that), but attributing us a meaning in the future.
︎︎︎This act results in the first instance a conceptual empowerment that can have a practical effect on reality.
︎ Soma Publicaciones
︎DOWNLOAD HERE FOR FREE︎︎︎