︎SECRET SUMMER SUNDAYS︎SECRET SUMMER SUNDAYS
Is a series of in-person outdoor events in Bushwick. We invite artist and press friends to share & sell what are they are working on. There'll also be dj friends spinning sets & performances. Come hang with us on a summer Sunday.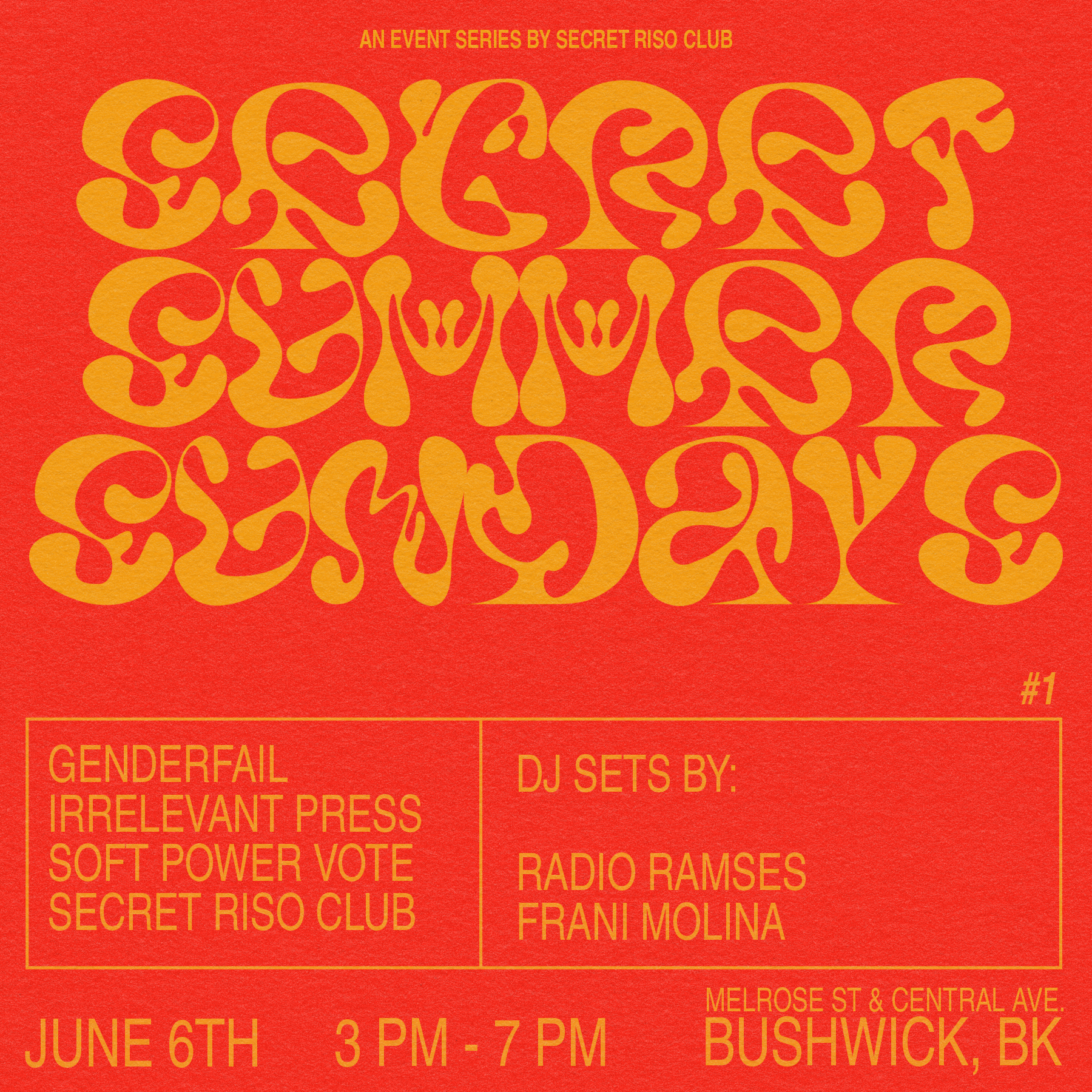 MERCURIO ︎︎︎ FREE TYPOGRAPHY BY W TYPE FOUNDRY
W Type Foundry is a typography studio based in Chile & London.
CHILEANS: THE MERCURIO LIES, read the banner Pedro Cardyn hung up at Chile's Pontificia Universidad Católica (PUC) central campus on August 11th, 1967. The phrase, calling out a mainstream newspaper El Mercurio, was meant to expose the conservative right-wing's attempt to impose neoliberalism on the country. 52 years later, we can say that the phrase remains clear and relevant, and it can beapplied to the media. Lies and an imposed false normality have been a quiet, daily habit. The good news is that their absurd lies have become evident, and we no longer believe them. This project was born in 2018 as a joint exploration with artist Alfredo Da Venezia.



While using 3D printing to replicate the front of the PUC building, we rescued the letters in the original banner, digitized them and programmed them as a font, using mapping to replicate the original gesture.

When we began this project, we tried to channel our feelings of unease through the comfort of what we knew how to do. We never imagined that a revolution on the scale of what we're living in Chile would take place. People's response to the state's constant abuses through the instruments of its power has been harsh and beautiful. The list of those wounded, tortured and killed is not tolerable.
Neither is our selfishness. Each of us must fight andcontribute to the new Chile that is being built. That is why we are making this font freely available, to use as another tool in this scenario. We know it's a small contribution within our context, but we have to rethink our political actions against the current capitalist system. Because capitalism is in the details, deep within each of us, and that can only change when our actions become collective and guided from aplace of love. We hope for a solution to this, and by solution we mean an end to neoliberalism and the construction of a healthy society.


WE ARE GIVING AWAY 10 COPIES OF THIS A1 22"X33" POSTER!
JUST ADD TO CART ︎
︎ ANDEAN FUTURIST MANIFESTO ︎
This digital-universal version of Andean Futuristic Manifesto by Alan Poma, was edited by Soma Publicaciones in April, 2020.

︎︎︎ Andean Futurist Manifesto / Alan Poma connects the ideas of Russian Futurism (1913) with Andean cosmology. Developing methodologies that make art a tool for the invention of possible futures.

︎︎︎ According to the chronicles of Fernando de
Montesinos, the Inca Toca Corca Apu Capac established an astronomical teaching center in Cusco developing a system that helped to generate precise calendars for the Empire.
However, the Incas themselves prohibited the use of written text, attributing them with negative magical powers.
︎︎︎ That is why Tupac Cauri Pachacuti, 60 years before the arrival of the Spaniards, limits the communication of information to geometric images and quipus.
︎︎︎These geometries, called tocapus, carry with them a code of geometric language that no Western science can read.


︎︎︎For Andean Futurism, the way to give life to that geometry is not trying to decipher its meaning in the past (that is what history and archeology is responsible for) nor in the present (that popular culture is responsible for that), but attributing us a meaning in the future.
︎︎︎This act results in the first instance a conceptual empowerment that can have a practical effect on reality.
︎ Soma Publicaciones
︎DOWNLOAD HERE FOR FREE︎︎︎